Is the ITC 8.34% surge an indication of a sleeping giant about to awaken?
ITC stock surged near to its 52-week high of ₹239 this week, shooting up over 8 per cent to ₹233.50 apiece intraday on Thursday and closed the week at ₹231.15. The stock had the Twiterratis on a roll, with stock memes doing rounds everywhere.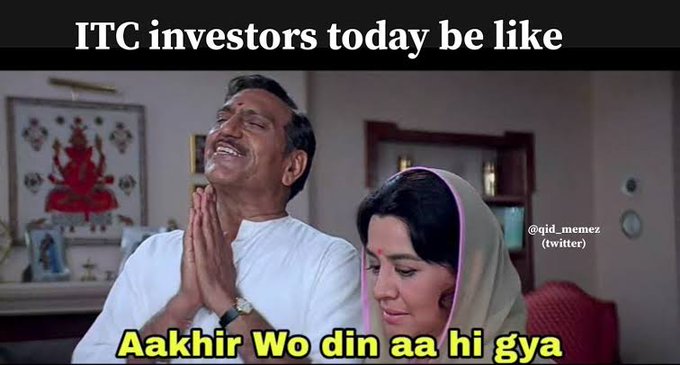 Baaki stocks ek taraf…. ITC +5% hits differently. Matlab, alag hi nasha hai logon mein. A wave of excitement, like Bhuvan and his boys ahead of Ghanan Ghanan in Lagaan! #ITC #StockMarket pic.twitter.com/ngSkHZriTv

— Mangalam Maloo (@blitzkreigm) September 16, 2021
The sudden rise in the stock price of the tobacco-to-FMCG conglomerate was a delight for many investors who have been waiting for the stock to rise above its narrow range for over a year.
Let's look at it technically………………
ITC observed consolidation break out on Thursday, 16th September with more than three times average daily volume after hovering between ₹198-218 zone for a long time.
This sudden rally on the counter is contextual of an expected improvement in the business outlook. ITC is the cheapest counter within the FMCG Basket. The current move in a counter seems like a sleeping giant is about to awaken that may cheer the retail investors.
On a higher time frame, i.e on the yearly chart, ITC is pointing to Hammer formation in 2020 which is a bullish reversal candlestick formation that indicates that stock has reached its bottom and is positioned for trend reversal.
This reversal will be confirmed once the stock will close above the ₹243.90 mark which is the high of hammer candlestick formation. The stock has closed at ₹231.15 in Friday's trading session.
Technically, all the factors are currently aligned in support of the bulls.
Should you buy ITC at these levels?
Purely from a technical analysis angle, one can enter long on the stock with a stop loss of ₹215. Immediate resistance is in the ₹238-242 zone. Once the stock moves above ₹242, it will be hallelujah! You can expect it to zoom towards ₹265-275 mark.
Are you ready to take some risk to make some serious money?