Ambani hands over the baton | Ties absent at the G7 | GST council meeting | Weekly Market Wrap-up | 03 July
---
Arihant Capital's Weekly newsletter – catch up on all that's happened in the stock markets this week before Monday hits us again. 
In this article
---
With a new blockbuster hitting the screens and Ranbir-Alia declaring their pregnancy, Jugg Jugg Jeeyo was trending all week. Meanwhile, India Inc was also singing the same tunes when Mukesh Ambani put his succession plan into action and wished Jugg Jugg "Jio" to his son Akash. Confused? Let's back up… Mukesh Ambani has started to put his succession plan in action. Akash Ambani is to take over the reins as Jio's Chairman while Isha Ambani is all set to take the reins of the retail arm.  
Talking about the wealthy and the powerful, the G7 countries met in Germany. Amid the picturesque views, a glass ceiling was clearly visible along with an absence of "ties" (quite literally in the dress code). The G7 looked for ways to combat war-led inflation and climate change while penalizing Russian commodities.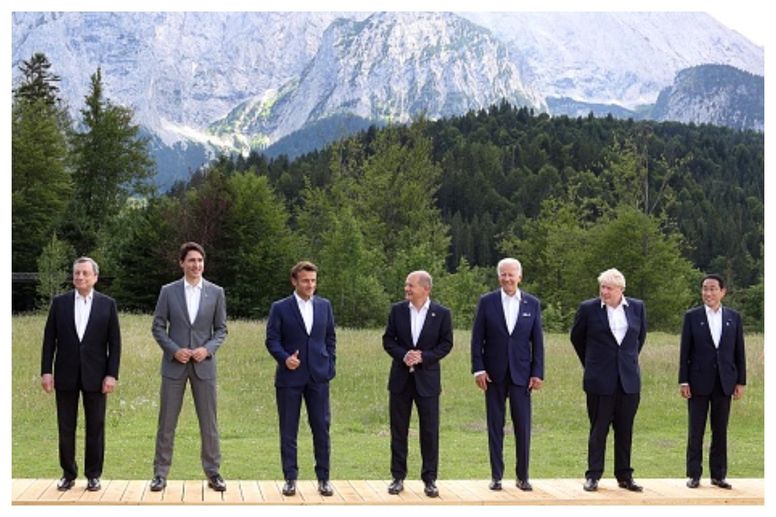 Meanwhile in India, the GST council meet and rationalized several GST rates, more on this later. 
The benchmark indices ended on a flat note with Both Nifty 50 and Sensex ending the week up 0.34% at 15,752 and 52,908 respectively. Bank Nifty showed a weak decline of –0.26% to end the week at 33,539. Among the sectoral indices, Nifty FMCG and Nifty Metal led the rally at 2.51% and 2.17% respectively and the sentiment was dragged by Consumer Durables and Oil and Gas with Nifty Consumer Durables being the biggest laggard at -1.21%.  
---
📈Market Outlook
–Mr. Ratnesh Goyal, Senior Research Analyst, Arihant Capital
Nifty
On the daily chart of Nifty, we observe a "Hammer" candlestick pattern and on the weekly chart, the index is still trading below the downward gap area. We believe the market may consolidate further, but the downside risk seems limited. Nifty can face resistance around the 15,820 levels. If it starts to trade above 15,820 then it can touch 15,950-16,050 levels. The downside support is 15,650, if it starts to trade below 15,650 then it can test 15,500 and 15,400 levels. 
Bank Nifty
On the daily chart of Bank Nifty, it has started trading above the short-term moving average and on the weekly charts, it is trading below the downward gap area just like Nifty. On analyzing both charts, we feel that Bank Nifty may consolidate further, but the downside risk is limited. In the coming trading sessions if it trades above 33,900 then it can touch 34,400 and 34,800 levels. However, the downside support comes at 33,450. If it starts to trade below this level, we can see it touching 33,100-32,500 levels.
---
💰Stock Picks
From the Technical Desk
-Ms. Kavita Jain, Head Learning and Senior Research Analyst, Arihant Capital
---
🔎Quick Bites
Global
Putin has strongly pushed the International North-South Transport Corridor (INSTC) as the key connectivity link between Russia and India via Iran. 
US stocks see their worst fall in 50 years!  In 2022, the S&P 500 is down nearly 21%. Meanwhile, the Dow Jones Industrial Average is down more than 16%, while Nasdaq is down about 25%. 
G7 meet concludes and members pledge to impose severe and enduring costs on Russia while pledging monetary support for Ukraine. They pledged to take action on democracy, Ukraine, global food security, and climate change. Although India is not a member of G7, it was called as a guest to attend the summit. 
Economy
The rupee hit an all-time low of ₹79.04 against the US dollar.  
In an all-out effort to save the Rupee, the government hiked taxes on oil and gold. Import tax on gold was hiked from 7.5% to 12.5% to curb gold imports  
External debt increases 8% in FY22 to $620.7 billion.  
SEBI slightly opens a commodity door for FPIs. FPIs will only be allowed to trade in non-agricultural and cash-settled contracts such as crude oil and natural gas.  
FPI outflow in H1'23 hit a record ₹2.1 L crores. 
What went up: 'unbranded', pre-packaged and labelled food to attract 5% tax; hotels charging less than ₹1,000 will come under the 12% GST bracket.
Stalemate: Online gaming, horse racing, lottery and the contentious issue of extending GST compensation for states were several issues which remained unresolved.
Relief: concessions to goods transporters because of high fuel prices and slashed levies on small e-commerce businesses.
Maharashtra CM Thackerey resigned in face of a trust vote, and Eknath Shinde was sworn in as CM with BJP support. 
IPO filings hit a 15-year record – 50 companies filed their draft red herring prospectus since Jan'22.
Automobile
Tata Motors hiked commercial vehicle prices from 1st July 2022. 
Auto sales see a revival: Maruti Suzuki reported a 5.7% rise in sales since May. Tata Motors showed a 78% hike when compared to June 2021. Mahindra and Mahindra also showed a growth of 64% YOY. 
Bajaj Auto announces share buyback for ₹2,500 crores. 
Banking and Finance
The gross net performing assets ratio of banks fell to a 6-year low of 5.9% in March 2022 according to RBI. 
Lentra AI Pvt Ltd, backed by HDFC bank, acquired artificial intelligence company TheDataTeam. 
ED Traces ₹2,317cr as 'Proceeds of Crime' in Yes Bank-DHFL Fraud. 
PSB Privatisation Bill may allow the government to completely exit the banks which are being privatized. 
India saw 9.36 billion transactions worth ₹10.2 trillion in Q1 2022 via various payment modes. UPI leads as being the most preferred payment method. 
Energy and Infrastructure
The government has allowed oil companies to sell locally produced crude oil to any Indian refinery for turning it into fuel, such as petrol and diesel.
India exported 5.7 million metric tonnes (MMT) of petroleum products in May – 6% higher than April 2022.
IT and Telecommunications
Mukesh Ambani has resigned as the director of Reliance Jio. Akash Ambani is now the new chairman of the board of the company. 
Tejas Networks and Tata Motors have tied up with Japanese chipmaker Renesas Electronics to manufacture semiconductor solutions for India and other emerging markets. 
Airtel Payments Bank and Axis Bank partner to digitize last-mile cash collection. 
Infosys bags order from Australia's Global Express. 
Industry
The government has extended the deadline to submit applications under the production-linked incentive scheme for speciality steel till July 31, 2022. 
Oil companies +15 companies including Adani Copper Tubes, LG Electronics, and Wipro Enterprises have been selected under the 2nd round of the production-linked incentive (PLI) scheme for the white goods sector.   
Tata Steel will spend ₹1,200 crores on new technology over 4 years to enter materials beyond steel.
Tata Steel to ramp up Neelachal Ispat Nigam Ltd operation to 1.1 MTPA within a year  
Adani Enterprises' subsidiary Kutch Copper, is setting up a new copper manufacturing facility with a capacity of 1 MTPA (million tons per annum) with ₹6,071 crores debt. 
India's rush to avoid blackouts left iron firms without coal.
Other
UltraTech

drops plan to buy a 3 million tonne Jaypee plant-based

in UP. 
SII gets approval to export over 32 lakh doses of Covovax to the US. 
ENIL rolls out OTT app "Mirchi Plus". 
Boots sale plan dropped amid a volatile market. 
Airbus emerges as the frontrunner for a $5.5 billion order from Jet Airways. 
RIL, PremjiInvest, CP Group, and Swiggy look to bid for the Metro India unit.
---
🔌Sustainability Corner
India's first fractionally-owned solar power plant was launched by PYSE in Karnataka.
TVS Motors is in talks with private equity firms TPG Capital and KKR & Co. to raise at least $300 million for its electric vehicle business. 
Tata Power Solar Systems commissioned India's largest floating solar power project of 101.6 Megawatt Peak (MWp). 
Niti Ayog's report says electric two-wheelers will have 100% penetration in the Indian market by FY27.  
Maruti to focus on hybrid vehicles, not EVs due to a lack of sufficient charging infrastructure. 
India banned the use of single-use plastics from July 1. 
Maharashtra signs deal with Adani Energy for 11,000 MW green power generation for ₹60,000 crores. 
Tata Chemicals Europe set up the UK's very first industrial-scale carbon capture plant for £20 million. 
Lack of 'basic safety systems' behind EV fires according to the probe panel on EV fires. 
India needs to form Green Hydrogen Corridors according to NITI Aayog.
EV Cos availing of FAME subsidies face tighter scrutiny. 
Sundaram Fasteners bets big on electric vehicles. Sundaram Fasteners was awarded ₹150 crores in contracts for EV merchandise. 
Chandigarh launches 40 electric buses. 
Altigreen and Vidyut Parivahan inaugurate an EV centre in Pune. 
IOCL signs MoU with hydrogen fuel-based startup AHODS Technologies to push new-age clean fuel. 
That's all for now folks! See you next week!